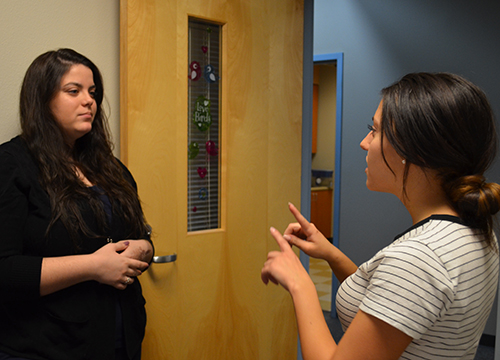 From March 13 to April 15 we celebrate Deaf History Month, a time of year recognized for important moments in deaf history. March 13 marks the first deaf president of Gallaudet University in 1988 and April 15 marks the founding of the American School for the Deaf (the first public school for the deaf) in Hartford, Connecticut back in 1817 (Gomez).
The College of Southern Nevada itself dedicates an entire program to Deaf Studies, where students "develop a strong understanding of American Sign Language, deaf culture and history" (Bass). Students who graduate from this program can either continue their education in an advanced degree or enter such career fields as teaching, counseling, interpreting, and social work (Bass).
CSN Libraries also has great resources for learning about the culture's rich history and learning more about American Sign Language itself. In the physical book collections, you can find deaf studies in the call number range from HV2380-HV2480. Ask a librarian if you need help finding these sections in the library!
Online, we have great ebook titles like:
The SAGE Deaf Studies Encyclopedia
A Historical and Etymological Dictionary of American Sign Language: The Origin and Evolution of More Than 500 Signs
Many films also teach an introduction to American Sign Language:
An Introductory Course in American Sign Language
And we have academic journals filled with articles for deaf studies and education research:
Deafness & Education International
Remember, when trying to access library resources from off campus, you will be asked to log in to your library account using your ID number and MyCSN/Canvas password for students (active network directory username and password for faculty).
CSN Libraries also makes a point to ensure its content is accessible to students of all abilities. Videos created by librarians should have closed captioning or transcripts available. If you find any resources that you cannot access, be sure to contact the library to let us know!
Works Cited
Bass, Caroline. "Deaf Studies Program." CSN. 2018. Accessed 15 February 2018. https://www.csn.edu/programs/deaf-studies
Gomez, Alexandra. "Observing Deaf History Month." New York Public Library. 2011. Accessed 15 February 2018. https://www.nypl.org/blog/2011/03/15/deaf-history-month.