CSN Libraries welcomes our newest addition to the West Charleston campus, Cesar Martinez! No stranger to libraries in the Las Vegas area, Cesar is a Library Assistant III in the circulation department who brings experience, enthusiasm, and positivity to our students, faculty and staff.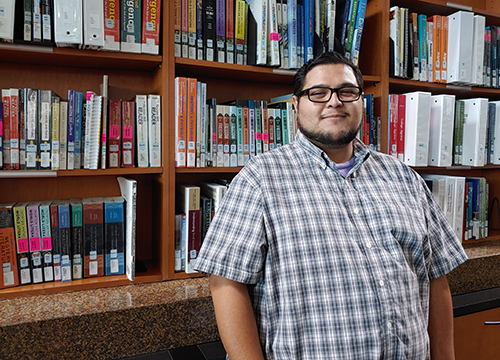 Why did you decide to leave the public library to work in an academic library?
I started as an aid for my high school's library which helped me obtain employment at LVCCLD while I was still a student. I originally left the public library after 7 years because I couldn't obtain a full-time job due to the fact that competition was so fierce after 3 years of valley-wide hiring freezes. After being away for so long I felt homesick for a job I loved and decided to find employment in an alternative library organization. Best decision I've made so far!
Tell us something about yourself Cesar!
Well to start I was born in Los Angeles, California but spent the vast majority of my time out here in Las Vegas. I consider myself a big information sponge! I love learning about random things for no reason at all other than I heard about it. I also read a lot of graphic novels in my spare time.
How does your new position differ from the one you just left?
The last job I had was being a coordinator at an auto auction. I'd rather be inside helping students and faculty than being outside in the sun all day.
What do you like best about working with students, staff, and faculty here at CSN so far?
I enjoy the atmosphere and everyone is very helpful.
What activities do you enjoy doing when you're not at work?
I love taking my three dogs out for walks and little road trips to the surrounding areas like Red Rock and Calico Basin. I'm also a huge plastic model fan and I have a closet full of Mobile Suit Gundam models. When it comes to Gundam, Universal Century has always been my favorite series but lately the Build Fighters series has captured most of my time and attention.