October 2019 Chronicle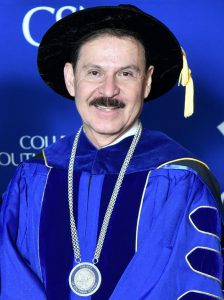 We are well into the semester now, and I have some great news: Enrollment is up again! Our headcount of 35,771 means that enrollment has increased four years in a row!
There is much more exciting information to share, including news about our new Leadership Academy and a transition plan for the CSN Counseling Department, as well as some good news, important dates, and events coming up this month.
Federico 
In this issue:
CSN Leadership Academy 
Counseling Recommendations
PTK Honors Bruno Rhodes
Coyote Cupboards Open
Jeanne Clery Report
HSI/MSI Symposium
New inclusive learning leader

   

Student Unions Grand Opening
Constitution & Voter Registration Day
Nevada Promise Deadline
Short Film Showcase
Science & Tech Expo
Fall Enrollment Report
CSN Leadership Academy
I want to remind you all that applications will soon be available for our new CSN Leadership Academy, which will be led by Dr. Gillian Silver-Rodis. This is an opportunity for all our employees to become better leaders and sharpen their skills to help our students succeed. The Academy will launch this spring and consist of seven half-day sessions and a graduation. Please keep your eyes open for application materials later this month.
Multi-Campus Recommendations
I am pleased to authorize the consensus recommendations of the Counseling Department, Faculty Senate, Executive Council, and Campus Vice Presidents & Provosts to proceed with the initial transition plan for the CSN Counseling Department. Counselors have temporarily transitioned to Charleston Campus Vice President & Provost Dr. Sonya Pearson as we continue this important work to help put students first. Please know that Dr. Pearson is committed to continue sharing information with our employee groups about the multi-campus model, including structural changes to our counseling process, outlined in detail at the link below. Kudos to the Counselors, Faculty Senate, Administrative Faculty Assembly, Vice President Chrysanthou, Dr. Thomas and Dr. Pearson.
PTK Honors Bruno Rhodes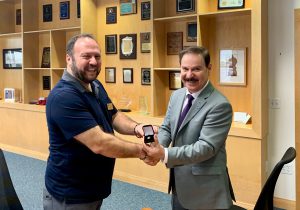 Please join me in congratulating CSN English Professor Bruno Rhodes, who was recently honored by the Phi Theta Kappa honor society for his service as CSN's PTK advisor! I was pleased to present Bruno with a pin from PTK in appreciation of his dedication to his students and to our student success mission. CSN will also purchase a brick in Bruno's honor to be placed at the Phi Theta Kappa Center for Excellence Alpha Courtyard at the organization's national headquarters. Congratulations!
Coyote Cupboards Now Open
I am pleased to say the food pantries are now open in each of our student unions. The Coyote Cupboards provide a valuable resource to our students who may struggle with food insecurity and hunger. As you know, the pantries were made possible with a $300,000 grant from the University of Nevada Cooperative Extension. The cupboards are being run in cooperation with Three Square Food Bank and the CSN student government.
Jeanne Clery Report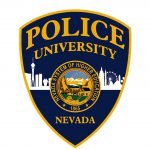 As required by federal law, we recently released our annual security report, which includes three years' worth of statistics for specific crimes that were reported to have occurred on campus, in or on non-campus properties owned or controlled by the college, and on public property within or immediately adjacent to the campuses. You can read the full report at the link below.
HSI/MSI Symposium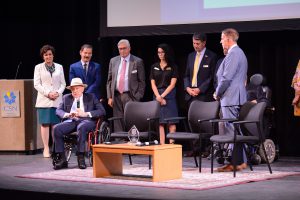 I hope you were able to attend the HSI/MSI Symposium in the Horn Theater last week. The daylong symposium was part of a three-day event in collaboration with the other NSHE institutions where we heard from national experts on issues related to diversity in higher education. I am so thankful to all our elected leaders and to the higher education community for their enthusiastic participation and support. We are grateful for the opportunity to collaborate with other professionals and community members to leverage our resources to help achieve high-level outcomes for minority students.
New Inclusive Learning Leader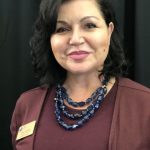 I am pleased to announce Nora Mirabal has been named interim executive director of inclusive learning and engagement. Nora has been with the College of Southern Nevada in a number of different roles for the last 24 years, most recently with the Jumpstart Concurrent Enrollment Program. She started in the human resources department and working in marketing and public relations as well. She has been with the Jumpstart program since its inception and has helped grow the program to more than 3,500 students. As you know, I am committed to our diversity efforts and putting out students on path to graduate, complete transfer and prosper and I know with Nora as an executive director we'll continue that work. 
Student Unions Grand Opening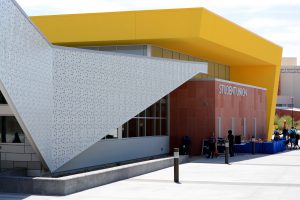 Please join us as we celebrate the official Grand Opening of our three new student unions. Students, colleagues, friends and special guests will convene on the Charleston Campus from 1-2 p.m. October 29. I hope to see you there!
Constitution & Voter Registration Day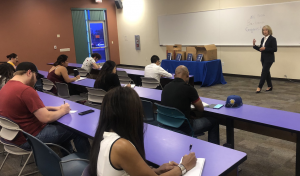 I want to thank Nevada Secretary of State Barbara Cegavske for joining one of our political science classes last month on Constitution Day, a federally recogn
ized day of observance celebrated on September 17 – which is the anniversary of the document's signing. The day coincides with Citizenship Day, when we 
recognize people who are taking steps to become U.S. citizens. National Voter Registration Day is also in September, and this year we held a registration drive on the North Las Vegas Campus, partnering with the League of Women Voters of Nevada. We had a great turnout. Thanks to all who helped organize such an important event.
Nevada Promise    
The deadline to submit an application for the Nevada Promise Scholarship for the 2020-21 academic year is October 31. Applications are available now.
Other Upcoming Events
Short Film Showcase      
The 8th Annual Short Film Showcase will take place from 7-10 p.m. October 11 in the Horn Theater on the North Las Vegas Campus. See films by our award-winning film & videography students.      
Science & Tech Expo
CSN's Construction Career Day and Science & Technology Expo will run from 9 a.m. to 1 p.m. October 18 on the North Las Vegas Campus. We're expecting 2,000 students from CCSD schools to visit.
Fall 2019 Enrollment Report
Please review the latest enrollment report at the link below. This updated report reflects our fall enrollment through September 30, 2019. Visit the Institutional Research web page to see additional enrollment and institutional data.