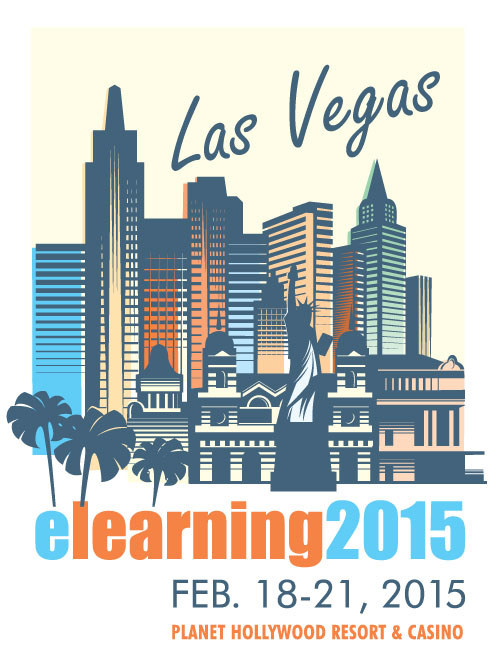 Did you miss the eLearning Conference last month? From February 18-21, Las Vegas held the annual conference for eLearning faculty, instructional designers, online media specialists, and web course developers to exchange ideas with colleagues coming from across the country and the world. Right down the street at the Planet Hollywood Report & Casino, CSN served as the host organization for the event, and our very own CSN librarians were among the only librarians in attendance at the conference.
Always eager to share the information we learned, below are some of the eLearning sessions attended by our librarians and the takeaways that will keep you up to date with what's happening in the world of online education:
Open Educational Resources: Roadmap to Adoption
Geared toward educational leaders, this session offered suggestions for implementing Open Education Resources (OER) on college campuses. Donna Gaudet and the Math department at Scottsdale Community College implemented OER for the first 3 math courses in her department. She noted that at the beginning of the implementation process, students began to select OER courses over textbook courses. This is part of the Maricopa Millions Project that aims to save students $5 million over five years.
Two of the presenters noted the campus bookstore's involvement in the process—they stated that most of their bookstore revenue comes from T-shirts and non-textbook items. They were eager to help with the distribution and printing of OER materials. Bookstores on campus were willing to print a book if a student requested it, and still charged for it, but at a cost that was significantly less than a traditional textbook.
The issue of accreditation was brought up. The presenters stated that faculty implementing OER have more input on their course content and structure, which they said is a "plus" with accrediting bodies. It was suggested that faculty first consider whether they'd like to create original OER content or adopt content (from places such as OpenStax or MERLOT).
One suggestion was obtaining a grant that could help facilitate such a project. The TAACCCT grant (http://www.doleta.gov/taaccct/) is one such possibility.
Action, Interaction, Reflection: Moving Tablets into the Classroom
Two full-time faculty at Linn-Benton Community College purchased 40 tablets for a classroom. The tablets were connected with the classroom and students logged on using their student accounts. One of the faculty members noted that when he didn't use tablets, students tended to be preoccupied with their phones. But during activities with tablets, they were more engaged and less likely to take out their phones. Business faculty found that the students' final projects tended to be of a much higher quality than they were before.
Faculty involved in this project initially thought they'd be using mostly apps on the tablets, but they discovered that they used a lot of programs that worked across all platforms, such as GoogleDocs. Some of the barriers in this experiment included the fact that the tablets only allowed four logins each, which prevented some people from using them. Also, one faculty member said he had the IT department in his classroom almost every day for two weeks in order to deal with unexpected technology issues that arose.
Faculty-Created Media: Enhancing Student-Faculty Connections in Traditional, Flipped, Hybrid, and Fully-Online Programs
One instructional designer described her techniques for assisting faculty who wanted to create new content. Her campus has a "studio" where faculty can create content and have access to her assistance nearby. She emphasized that faculty should start with what they're comfortable with. For some, that's simply narrating a PowerPoint presentation while for others it that could be creating a whole video in Camtasia.
Federal Regulations for Distance Education—What's Next? Ask the Experts!
The Higher Education Act was last reauthorized in 2008 and will likely not be reauthorized again during this administration, but states are looking at their own solutions such as the State Authority Reciprocity Agreement (SARA).
The presenters discussed financial aid fraud and stated that your Financial Aid department needs to always be on the lookout for new ways "students" are defrauding schools.
Presenters also talked about ADA accessibility and how "students are in the driver's seat" when it comes to compliance. It's not a matter of if your institution is accused of non-compliance, but when. These are some things to think about as our college continues to strengthen its Distance Education program.
Do you feel like you were there? Do you want more information? Feel free to contact our librarians, or visit the Instructional Technology Council website to learn more about the eLearning Conference and other resources for online education.