Choosing a major is a matter of getting the right information early. Most students decide to follow their dreams and build on their strengths. It is important to avoid the trial-and-error approach to selecting a college major. If you choose a major that you later change, you may lose precious time and money. The more you know about our CSN program majors the better prepared you will be to make a good decision about your future career.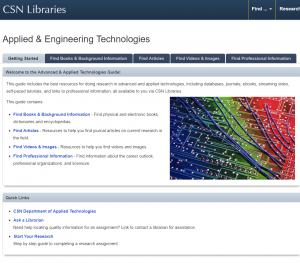 To get help with the process, you might start by browsing some of our CSN Libraries Program Guides.
You'll see that each electronic guide covers the major CSN occupational programs. From business and paralegal studies to health professions, travel and tourism, education, and more, each program guide provides a pathway to subject-specific resources. You'll be able to explore links to resources that feature what life in that occupational area might be like for you. You'll also learn from the guides about the college-to-career transition specific to each field. You'll begin to understand the preparation necessary for success in the field. You'll also gather a good sense of the professional values and current challenges of taking a position in that field.
From the CSN Libraries home page click on Research Help, then click on Program Guides for:
Key sources for articles, books, films, and reference materials essential to each occupational program
Employment outlook and earnings potential for each field
Links to professional associations, student associations, codes of ethics, and major journals and bulletins from the field
Links to corresponding programs of study at UNLV and NSC
Required national and state board exams, and the licensure and certification requirements for each field
Study materials for professional exams
Likely future study and experience required for advancement in the field
Films featuring a day-in-the-life on the job as well as interviews with professionals in the field
Accessing quality information is the foundation for making good decisions about your future. Armed with this information, you can ask informed questions of your CSN instructors in our occupational programs, and also from your CSN Program Counselor.