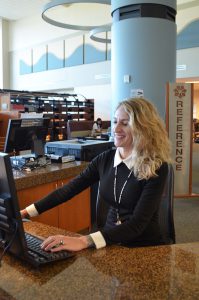 Becky Blunk is our newest reference and instruction librarian at CSN's Charleston campus library. She helps students at the reference desk, teaches library instruction sessions and does collection development in American history, anthropology and business.
Where did you grow up?
I grew up in the suburbs of St. Louis, Missouri and moved to a small town called Bardstown, Kentucky (just outside of Louisville) when I was a teenager. After high school and my first few years of college, I moved to Shreveport, Louisiana to join my husband who was stationed at Barksdale AFB. Prior to moving to Las Vegas, I lived in England for five years and was very fortunate to travel through Europe and visit many countries.
Where did you go to school? What did you study?  
I've been a public school kid my whole life. After graduating with a B.A. in History from Louisiana State University, I earned my Masters in Library and Information Science from the University of North Texas. While living in England, I also earned an additional Masters degree in Learning & Teaching from the University of Suffolk.
What other jobs have you had?
I've been working in libraries for nearly 12 years. I started working at the Barksdale Air Force Base library in 2005 where I took on the role of Children's librarian, but also worked as a library assistant in the reference department at my local public library. Before finishing my library degree, I worked as an Administrative Coordinator for the Neonatology Fellowship program at LSU Health Sciences Center. When my family and I moved to England, I had the wonderful privilege of working in the Reading Room at the Fitzwilliam Museum in Cambridge, and later took on my first professional librarian role at the University of Suffolk. During my last year in England, I served as the College Librarian at Churchill College (University of Cambridge).
Are there any special projects you're looking forward to working on at CSN?
I am very excited to become involved in the Nevada Promise program, as well as some of the work that is going to be done with regard to offering educational programs within the prison system in the area. I'm also honored to be part of the Military & Veterans Alliance at CSN and look forward to serving the wider campus community for years to come.
What are three things you would like everyone to know about CSN libraries?
Whether it's your first or 500th visit to the library, we're always glad to see you and are happy to help where we can.
CSN libraries is a space that belongs to all students and welcomes productive discourse that can enrich the academic experience at college.
Supporting your success at CSN is what we live for!
Becky can be reached at rebecca.blunk@csn.edu