As part of our migration to the new library services platform announced last week, there will be a temporary  "freeze" or limitations on how the Library will provide services. A fulfillment freeze will take place from Friday, December 15th through Tuesday, December 19th. 
Below are a few things to keep in mind if you're planning to visit one of the CSN campus libraries to check out an item during this time: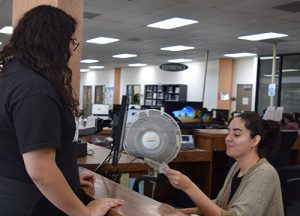 Please bring your library card: Staff will not be able to look up your card # during the 4 days of the freeze (12/15-19). If you don't have a library card or have misplaced it, visit one of the campus libraries before the freeze to obtain your card or a replacement card.
No library card creation: If you don't already have a library card, we will not be able to access the system to create a card for you. Please plan to visit the library before 12/15 or after 12/19 to activate your library card.
Library account details unavailable: During the freeze, account details such as items checked out, due dates, overdue items, verification of emails, addresses or phone #s will not be accessible. Please plan to visit the library before 12/15 or after 12/19 to obtain account details.
Library amounts owed in MyCSN: Library billed amounts may be paid online at MyCSN or in person at any campus cashier's office. Students may access MyCSN to view/pay any amount owed the library.
Limited search capabilities: Due to the migration, limited search options will be available on the library website.
As always, if you have questions or need assistance, please contact the library.