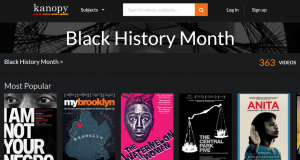 February is Black History Month! Our Kanopy and Films on Demand databases have organized hundreds of relevant films into special collections to make it easy to browse and locate films that resonate with this month.
In Kanopy's "Black History Month" collection you'll find over 350 videos, including award-winning documentaries on black activists and political leaders, as well as videos that explore cultural issues, race & racism, and events that shaped history.
The "Black History Month" collection in our Films on Demand database is loaded with videos and newsreels of interviews and speeches, making it a great source of firsthand accounts of historical events.
Films on Demand and Kanopy are available 24/7 from on or off campus through the CSN Library website. For help using these resources, just ask a librarian.