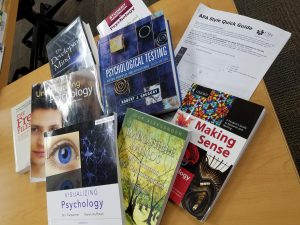 Prepare
Research assignments for CSN psychology classes can be among the most varied and challenging you will encounter. For certain class assignments your instructor will ask you to locate empirical research to help you examine a specific assigned topic. You may have to examine peer-reviewed journals. Occasionally, you are asked to select your own topic based on something you care about. You may have to prepare an oral presentation in addition to the paper. You may have a group project component to the assignment – or some combination of all of the above. It is always a good idea to start by first carefully reading your assignment and ask what exactly does my instructor want? How long does the paper or presentation have to be? What types of resources are required or permitted. Do you need books, peer-reviewed journals, DSM-5, free-web sources? Is there a date range for acceptable resources? What are your due dates? Are there multiple due dates for the different components of the assignment? Is a draft expected? Be sure to ask your instructor if you are unsure of anything in the assignment. Most important – start preparing early in the semester!
If you have a group project, you should all take time to organize goals and tasks. Appoint a group leader. Exchange contact information, review due dates, create a calendar, and find an online workspace. For oral presentations, prepare visual aids in advance and rehearse for timing. You will also want to gather your APA information and review the title, pagination, in-text, and reference page formats.
Investigate
In psychology, ongoing research accomplished by behavioral scientists establishes valid scientific conclusions or claims. As part of the psychological research process, scientists in the field carefully evaluate the methods, evidence, and resulting conclusions reported. The research is then accepted or rejected – along with any claims made. It is only after this rigorous process that academic or professional journals publish certain research reports. These authoritative published research reports should form the core of your research investigations for most assignments. Additionally, you may need to use the DSM-5, the cornerstone of diagnostic classification in mental health, to locate professional definitions of specific disorders and current treatments. Your best bets for basic psychology research include:
ProQuest Central – An interdisciplinary collection of full-text articles from outstanding academic/professional journals. APA citations are available for every article in ProQuest. Be sure to filter for date range. While especially strong in the behavioral sciences, the interdisciplinary selection of scholarly articles found in ProQuest can also offer new ways of seeing problems, ideas or theories in other related fields.
PsycARTICLES – A database of full-text peer-reviewed articles published by APA and affiliated journals. Includes current journal coverage as well as historical content.
DSM-5 – The Diagnostic and Statistical Manual of Mental Disorders – Fifth Edition. A handbook used by healthcare professionals in the US and around the world as the authoritative guide to the definitions and diagnosis of mental disorders. Our online DSM-5 Library includes the Diagnostic and Statistical Manual of Mental Disorders, the Handbook of Differential Diagnosis, and the DSM-5 Clinical Cases. Be sure to see a Librarian if you need assistance using this resource.
As you read reports of research in your topic area, be sure to focus on the hypothesis and ask yourself why the study is important to your topic? Ask who are the subjects, how and why were they selected? How was the study conducted and under what conditions? What were the results of the study and was there anything inconclusive? Ask your instructor if you encounter problems in understanding the research presented and its relevance to your topic. For effective online searching, you may also Ask a Librarian for help finding good keywords to express your topic, and for assistance in using these resources and recommendations for others.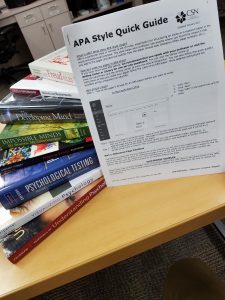 Report
For anyone working in psychology, the Publication Manual of the American Psychological Association is the definitive style guide. APA format can be challenging, and, as you work gathering resource citations generated in an online environment, it is important to be consistent with your reference page citations. Using a database like ProQuest or PsycArticles will allow you to locate scholarly resources from across various disciplines in the behavioral sciences, while at the same time maintaining consistency from citation to citation. If you're also consulting and then citing information from resources found in the DSM-5 or other databases, go online to the APA Style Guide located under Research Help on the Libraries webpage – or check the APA Style Quick Guide found in paper in each campus Library. We also have a complete sample APA paper found by clicking Research Help, then How to Cite, and Additional Citation Resources on the Libraries webpage. APA uses a system of DOI's or Digital Object Identifiers to help the reader identify the exact article used. All DSM-5 online information has a DOI associated with it. For assistance with editing or formatting an APA assignment, visit a CSN Writing Center or a Campus Library. We are all happy to help!
Understanding psychology starts with an understanding of scientific research methods. In order to be valid, opinions and claims all have to start with a scientific perspective of skeptical analysis of evidence and an understanding of how knowledge grows from the chain of research. For you, it all starts with Psychology 101, the classes that follow that course, and working your way through these first assignments.