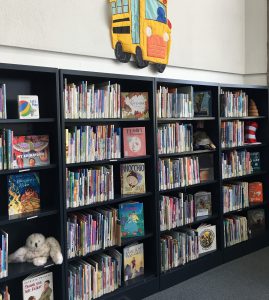 By Jack Sawyer
Our Teachers' Curriculum Library (TCL) is a model children's library located in our North Las Vegas Campus Library with over 3,000 children's books, including most American Library Association award winners like the Newbery Medal for children's literature and the Caldecott Medal for illustrators. One sub-collection at the TCL is the "Big Books," which are often 24 inches tall and 36 inches wide with a double page—great for using during story times. Also at our North Las Vegas campus library there are many young-adult novels and most of these have won awards too.
If you want to set your children, nephews, cousins and other youngsters on a path of school readiness, research shows a direct correlation between children experiencing a "story time" and their literacy abilities. Read to children and help them set a pattern of academic achievement.
Among the Libraries' online databases of articles that focus on education topics are:
For questions about Nevada School Law, we have two helpful books at our CSN campus Libraries:
Please take advantage of the CSN Librarians who are happy to talk to you about your education topic research needs—you'll find us in person at the campus library reference desks, by phone and via chat.