Just in time for summer reading! Our NEW & NOTEWORTHY selections highlight recent additions to our collection that have received significant acclaim in their field.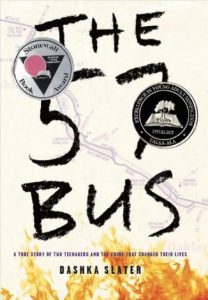 If you like "true crime" stories check out this book by Dashka Slater. The 57 Bus tells the actual account of two Oakland high school students who meet in a most unfortunate way. Sasha, an agender teen from a middle class neighborhood and Richard, a self-described homophobic from an urban neighborhood are both on the bus when a spur of the moment action changes both their lives. Sasha faces a long recovery from third degree burns and Richard faces trial and a prison sentence for committing hate crimes. Race, identity, crime, injustice, forgiveness and morality are all themes examined in the book. Slater relates the story from each person's point of view, incorporating narrative, dialogue, poetry, and lists to inspire and reveal the complexities of gender identity and the juvenile justice system.
Dashka Slater is a children's book author as well as an award-winning journalist whose articles have been published in The New York Times Magazine, Newsweek, Salon and Mother Jones. In The 57 Bus, she combines those writing skills to produce the American Library Association's winner of the Stonewall Book Award–Mike Morgan & Larry Romans Children's & Young Adult Literature Award. That award honors the best GLBT literature in English language works. The book was also a finalist for the Young Adult Library Services Association's Award for Excellence in Nonfiction for Young Adults.
You can find The 57 Bus on the shelves at the North Las Vegas Campus Library: HV6618 .S56 2017