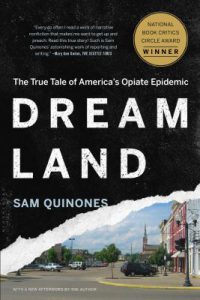 Dreamland: The True Tale of America's Opiate Epidemic by Sam Quinones is the 2018-2019 selection for CSN's One Book/One College common reading program. In its third year, this popular college-wide program strives to foster a sense of community, creativity, and conversation through the mutual study of a single book.
This year's selected book sheds light on the nation's unprecedented rise in fatal overdoses from opioids such as oxycodone, hydrocodone, fentanyl and heroin. According to English Professor Kody Lightfoot, Chair of CSN's One Book/One College program, "In its entirety, the book offers an intense study of this complex issue, but with standalone chapters that cross the disciplines, it is an excellent book for shorter class assignments in communication, business, criminal justice, critical thinking, composition, literature, medicine, advertising, statistics, economics, sociology, psychology, philosophy, and Latin American studies."
Each tab in our Dreamland resource guide will help you learn more about the book, the author, the opioid crisis nationally & locally and much more:
Home: Get a copy of the book– we have classroom sets, individual copies for checkout and a single user electronic copy. Learn about the book from the author himself by reading his op ed article in the NY Times or watching his PBS news interview about Dreamland.
The Author: Learn about Sam Quinones by linking to his biography and articles he wrote. Watch his testimony on the opioid crisis at the US Senate and check out his other two books from our CSN Libraries.
The Opioid Crisis: Learn about the opioid crisis in the United States through films, government information and books. Get information about the opioid crisis in Nevada with links to reports, statistics, Nevada's new prescribing law, and ongoing news coverage from our Las Vegas/Nevada News Newsbank database.
Treatment & Recovery: Find out how to get help for you or someone you know from the integrated opioid treatment and recovery centers in Las Vegas, drug courts and peer recovery support.
Pain & Pharmaceuticals: Link to books, films, articles and websites about pain management, pill mills, and the pharmaceutical industry.
Heroin and Drug Trafficking: Read Sam Quinones' original articles in the Los Angeles Times about the Xalisco Boys and check out books related to drug trafficking.
Further Research By Discipline: Learn about the best library databases for doing additional research in the fields of health science, psychology, criminal justice, and marketing. Link to in-depth reports containing pro/con information related to the opioid crisis.
For Faculty: If you're an instructor and would like to participate in this year's common reading but don't have time to teach the whole book, you'll find a guide detailing chapters or threads that might work for your classroom. You'll also find a Dreamland discussion guide created by the book's publisher and links to lesson plans.
If you need any help using the Dreamland resource guide, just contact a librarian.