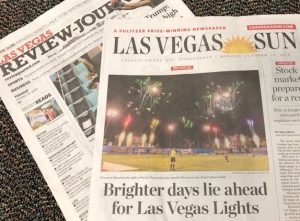 Does your research assignment focus on a topic related to Las Vegas, Henderson, North Las Vegas or any other location within Nevada? If so, our Las Vegas/Nevada News (Newsbank) database can help. It contains articles and transcripts from over 50 news outlets within Nevada.
Currently you'll find same-day articles from our local major newspapers the Las Vegas Review Journal and the Las Vegas Sun, as well as articles going back to 1996 from these two publications. Articles from UNLV's and UNR's college newspapers are included, as well as web-only sources of news, like the Nevada Independent and Carson Now. You'll also find articles from weekly publications like Las Vegas Business Press and Henderson View.
You can browse the available content of each news outlet by date, plus there are search options for finding sources about your specific topic. If you choose the "Advanced Search" option, you'll be able to search for your keywords in the headline, lead paragraph and other areas of the article or news transcript.
Like most of our Library databases, Las Vegas/Nevada News (Newsbank) has a built-in citation tool once you locate an article or transcript. Simply click on the citation tool icon (in this database it's "C) and then choose MLA, APA or another formatting style. You'll then be able to copy and paste the correctly formatted citation into your works cited/reference page.
In an era where many newspapers have implemented paywalls in order to view content on their websites, it's good to know that the Las Vegas/Nevada News (Newsbank) database is available to you through our CSN Libraries website. If you need help with this database or any of our Library resources, just ask a librarian.