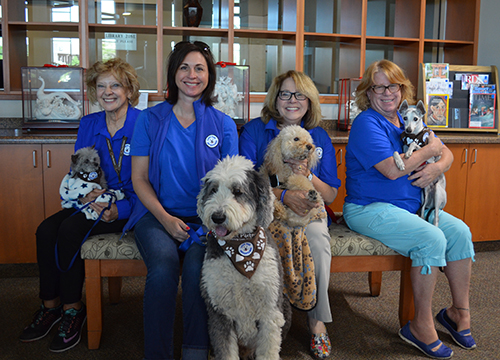 With midterm projects over and final exams looming, who can resist a break from stress to see a friendly face? Especially if that face contains the irresistible smile of a wonderful dog? That's right, it's the time of year when CSN Libraries goes to the dogs, bringing back therapy animals and volunteers from the local "Pet Partners of Las Vegas: Love Dog Adventures" organization. Between 12pm and 2pm on a designated day for each campus, you have the chance to pet, hold, and love our canine visitors (and maybe even a feline!) that are here to help you relax! Dates and campus information can be found below:
Tuesday, November 5 at the North Las Vegas Campus Library
Wednesday, November 6 at the Henderson Campus Library
Wednesday, November 13 at the Charleston Campus Library
Please note: Our therapy dogs are fully trained, licensed, and insured under the national therapy organization for Animal-Assisted Interventions: Pet Partners. Due to insurance restrictions, no outside dogs are allowed at Love Dog events.
For questions, contact eLearning Librarian Stephanie Espinoza Villamor. We hope to see you there!