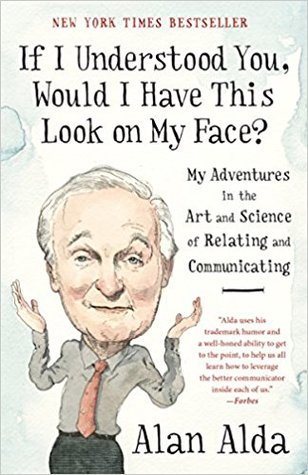 This year CSN has chosen If I Understood You, Would I Have This Look on my Face? by Alan Alda for One Book One College (OBOC). The OBOC program at CSN strives to foster a sense of community, creativity, and conversation through the mutual study of a common reading. Faculty of all disciplines are invited to teach the book (or parts of the book) in their courses, and students and staff are invited to attend the many events related to the book. This accessible book shares Alda's research into communication, revealing lessons from theater improv and empathy that actually help scientists communicate with laypeople, leaders communicate with their community, and all of us communicate more effectively with each other.
"This book is about what we can do about [miscommunication]; about how I learned what I believe is the essential key to good communication, and to relating to one another in a more powerful way. Surprisingly, I found that key in my training and experience as an actor, and it's helped me teach others how to communicate better, especially about things that are difficult to talk about or hard to grasp" – Alan Alda.
If you haven't read this book yet there are 15 physical copies at the CSN Libraries and 4 ebook copies available to download. In previous years books that have been chosen by OBOC were The House on Mango Street by Sandra Cisneros (2016-17); The Immortal Life of Henrietta Lacks by Rebecca Skloot (2017-18); and Dreamland: The True Tale of America's Opiate Epidemic by Sam Quinones (2018-19).
Book discussions, workshops, hikes and other events are scheduled to enhance the reading experience and to promote further conversation and connections. Visit the OBOC website for more information about the program and events.
OBOC Hikes
Hikers will meet at 8 am at the Charleston Campus parking lot east of the "B" Building; we'll be departing at 8:10 am. Bring a hat, sunscreen, sunglasses, sturdy shoes, layered clothing, 1.5 liters of water, a snack or sandwich, and your day pack. If you have one, bring your copy of If I Understood You, Would I Have This Look On My Face? We'll do a shared reading of one or two compelling passages. If you've never read the book, don't worry! Everyone is welcome. To join the hike, please email Jack Sawyer with a subject line "One Book Hike," and he will add you to the list: limited to the first 15 people responding. (*Hikes subject to change depending on weather conditions.)