You don't have to be a business major to understand the importance of finding sources that are accurate, current, and reliable- so whether you're putting together a business plan or looking for information about different companies and industries for an essay, CSN Libraries can help!
With unlimited access to some of the most sought-after databases and collections for students studying a wide range of business topics, our resources will take your work to the next level no matter what your assignment is or how much experience researching you have.  
Not sure where to start? Most business databases serve a particular purpose, including providing information about companies, statistics about trade, or even scholarly journal articles that discuss business theory, practice, and application. Depending on the kind of information you are looking to discover, the three databases listed below are a great place to "have a go" and start uncovering information: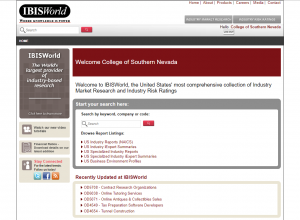 IBISWorld Industry Market Research: Curious about how industry performance analyses predict trends for boutique hotels, or what key external drivers affect the retail market for stationery products? IBISWorld is not only the world's largest provider of industry-based research, it also allows you access to industry risk rating reports, business environment reports, financial ratios, and much more! With IBISWorld, you can learn industry-specific jargon from coal mining to flower and nursery stock wholesaling, find out what regulations and policies jewelry and watchmakers must follow, or discover what company owns the market share in paint manufacturing.The possibilities are endless!
Redbooks: Ever wondered which advertising agencies major companies like Under Armour, Coca-Cola, or Target work with or how much small businesses with less than 100 employees spend on media advertising each year? Redbooks can help! By providing access to 10,000+ U.S. and international agency profiles and 15,000+ global advertiser profiles, Redbooks can be used to identify and locate agency clients, provide reliable information for contacting individuals within the agency, find company information by searching for the brands it owns, browse company competitors, and so much more!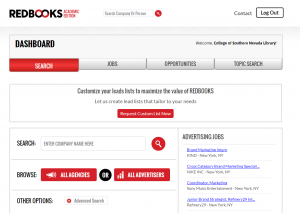 ProQuest Business: Although geared toward providing information for students writing essays or speeches, ProQuest Business includes 10 separate collections suitable for any assignment. In addition to the thousands of full-text journal articles, dissertations, and reports available in ABI/Inform, this database also provides access to a number of eBooks and chapters that will help to develop your foundational understanding of traditional and emerging business theories throughout your course of study. Similar to some of our other databases that provide company profiles, in-depth industry reports, and market analyses, ProQuest Business also includes a collection dedicated to vocational information focused on business, as well as historical archival access to The Wall Street Journal and other political and economic newspapers.
Access to these and other business databases are available to CSN faculty, students, and staff 24/7 both on and off campus and from a wide range of devices. To find the most suitable business database for your needs, click here, or click on the "Browse Databases" button on the CSN Libraries website, and select "Business" under "All Subjects."
Just remember…"coffee's for closers," so make sure you close in on your competition and include resources from any one (or two) of our fantastic business databases for optimal results.