Having the Love Dogs visit the CSN libraries has become a favorite event among students and staff at the college. The CSN libraries enjoy providing an opportunity to connect with these adorable animals who are trained to be calm while students and others interact with them. Students have told us that having The Love Dogs Adventures therapy animals on campus "is a wonderful way to relax and forget about their busy academic pursuits" and "to feel calm and ready to go back to studying and learning". In fact, books about animals and their relationship to humans have always been a popular topic in literature.
One such author, Jack London, died just about 100 years ago on November 22, 1916. London was a native Californian who achieved worldwide acclaim as a powerful storyteller, a legendary public figure, and America's most commercially successful writer.1 Among his works are The Call of the Wild, (published in 1903); White Fang, (1906); and The Sea Wolf (1904).
The Call of the Wild is unique in its appeal to readers of all ages, social classes, and civilizations. Since its publication in 1903, it has been the most widely read American novel in the world2. It is literature that can be appreciated at multiple levels and enjoyed by children and adults alike. It is an exhilarating adventure tale that shares a struggle for survival, describes courage and victory by humans over the wild elements of nature. The Call of the Wild dramatizes vividly London's belief in the return to the elemental, to what is fundamental in man and nature, to the strength born of struggle, and to the age-old spirit of adventure3. Many of London's novels were made into films which the library has online including The Call of the Wild and White Fang. In addition, there are biographical films on London including Jack London, American Original and Jack London: A Life of Adventure.
Naturalistic survival is an important motif in The Call of the Wild. In this novel, Buck the dog is the protagonist, and the novel speaks through him and connects the reader to the animal in ways that make it compelling and a book that many readers appreciate over and over through their life. Most of us have had a pet or animal in our lives that meant a lot to us and connecting with literature that brings back those emotions can be powerful. I urge you to check out both the Love Dog Adventures when they visit your campus library and to ask your librarian about some fiction or films that might interest you.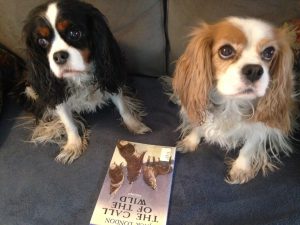 Hogge, Robert M. "Jack London." Twentieth-Century American Western Writers: Second Series, edited by Richard H. Cracroft, Gale, 1999. Dictionary of Literary Biography Vol. 212. Literature Resource Center, go.galegroup.com/ps/i.do?p=LitRC&sw=w&u=las55353&v=2.1&id=GALE%7CH1200008786&it=r. Accessed 3 Nov. 2016.
Tavernier-Courbin, Jacqueline. "The Importance of The Call of the Wild." The Call of the Wild: A Naturalistic Romance, Twayne Publishers, 1988, pp. 20-22. Twayne's Masterwork Studies 142. Twayne's Authors on GVRL, go.galegroup.com/ps/i.do?p=G-Twayne&sw=w&u=las55353&v=2.1&id=GALE%7CCX2328100014&it=r. Accessed 3 Nov. 2016
McEwen, Fred. "Jack London: Overview." Twentieth-Century Young Adult Writers, edited by Laura Standley Berger, St. James Press, 1994. Twentieth-Century Writers Series. Literature Resource Center, go.galegroup.com/ps/i.do?p=LitRC&sw=w&u=las55353&v=2.1&id=GALE%7CH1420005058&it=r. Accessed 3 Nov. 2016.